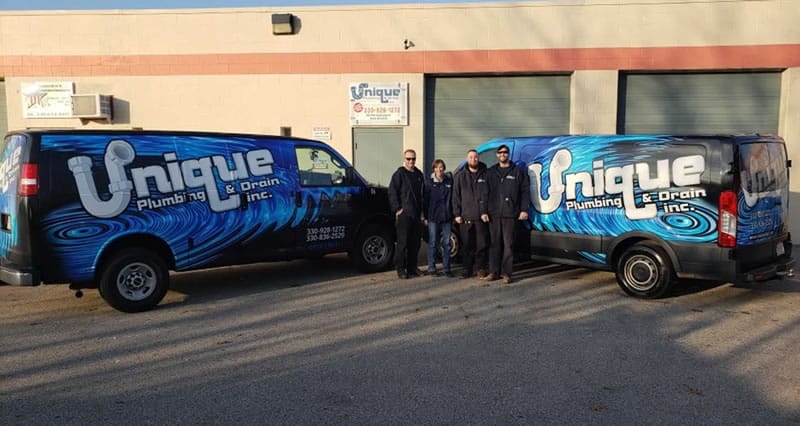 Plumbing Services & Repair In Akron Ohio
Your plumbing system is an integral part of your daily routine.  When it's not working correctly we can guarantee you're probably not having a great day.  Getting your plumbing system repaired and back in working order as quickly as possible is usually your first priority.  Some plumbing situations require emergency service other services might be able to wait or can be scheduled in advance.  If you have a plumbing emergency and need our help right now, please call us immediately at (330) 928-1272.
What Is Your Plumbing Problem We Can Solve?
Do you have a clogged drain?
Do you have water leaking in your home or building?
Do you need to move plumbing for a remodel?
Do you need new plumbing installed?
Unique Plumbing & Drain, Inc. is a full service plumbing company based out of Akron and serving the surrounding area.  We specialize in residential and commercial plumbing service calls including leak repairs, water heaters, waterlines, sanitary lines, relocating plumbing fixtures, slab leak detection, and more.  If you're having problems with your plumbing system our experienced technicians will be able to identify the problem and provide you with options for a good quality repair.
Plumbing Services We Offer
Faucet repair and replacement
Toilet repair, replacement, installation
Slab leak detection
Hot water heaters
Tankless or instant water heaters
Gas piping installations or repairs
Garbage disposal repairs
Backflow prevention devices
Waterline installation
Pressure tank installations
Finding and repairing water leaks
Unclogging drains or sewer lines
If you'd like to request your plumbing service please call:  (330) 928-1272 if the request is urgent or fill out our online contact form if you need non-emergency service and we'll get right back to you.