Tankless Water Heaters Akron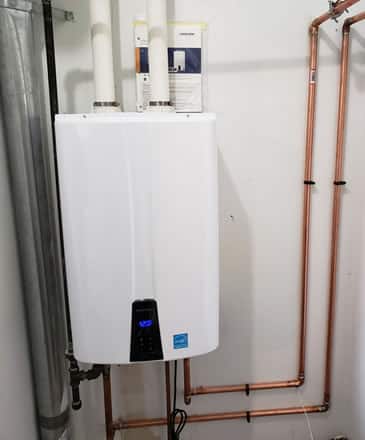 Tankless Hot Water Tank Installations
Tired of waiting for your hot water?  Don't want a big bulky hot water tank taking up valuable storage space?  Do you just want the latest and greatest in energy efficient home appliances?  A tankless hot water heater is a popular upgrade for our customers homes and businesses.  If you have natural gas piped into your home then a tankless water heater is something you should seriously consider.  (we can help you with electric ones too but gas is most efficient).
The Three Top Reasons To Install A Tankless Water Heater:
So you can have instant hot water available when you need it.
You can save on your energy bills as they more efficient.
You want to save space and a tankless water heater has a much smaller footprint.
Unique Plumbing & Drain, Inc. is a full service plumbing company based out of Akron and serving the surrounding area.  We specialize in the installation and repair of tankless hot water systems.  Whether you have an older system that needs a repair or you want to replace an existing traditional hot water tank with a more modern, efficient, hot water on demand, tankless system our experienced technicians will be able to help you.
Tankless water heater repairs
Tankless water heater replacement
Tankless water heater installations for new construction
Brands Of Tankless Water Heaters We Can Install Or Repair:
Rinnai
Rheem
Stiebel
And more!
More Tankless Water Heater Benefits:
#1. No Holding Tank – Traditional hot water tanks take up a lot of space in a closet, that cubby under your stairs, or in your laundry room.  A tankless water heater doesn't use a holding tank because it heats the water on demand.  This can free up space in your home.  Holding tanks are normally what fails on a traditional hot water heater and a tankless system doesn't suffer from the same rust and corrosion issues a traditional hot water tank does.
#2. Long Lifespan –  We've established that a tankless water heater doesn't use a holding tank so therefore it's not as exposed to the same rust and corrosion problems that a traditional heater is exposed to.  Because of this a tankless water heating system can last nearly twice as long as a conventional water heater.
#3. Reduced Wastewater– No more running the faucet, waiting for your hot water to arrive… The average homeowner can easily waste HUNDREDS of Gallons of water a year waiting for the hot water to arrive at their tap.  Tankless hot water heaters heat the water immediately when you need it.
#4. Never Run Out Of Hot Water – Because the hot water is supplied "on-demand" you cannot really empty the system of hot water.  If you've got a large family, operate a small business, or just use hot water frequently then you can relate to this, running out of hot water is a major inconvenience.   If you've been looking for a modern, energy efficient upgrade for your home or place of business then a tankless water heating system can be a wise investment.
If you'd like to have us install a tankless water heating system in your home or building please call (330) 928-1272 or fill out our online contact form and we'll get right back to you.